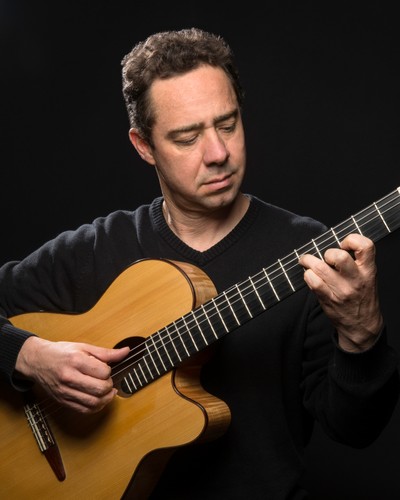 Born and raised in Seattle, Gazarek grew up without much exposure to jazz. She denotes any and all preliminary jazz education to her high school big band and choir director, Scott Brown. "He afforded us a lot of educational opportunities at festivals and competitions," Gazarek remembers. As a senior in high school, she was awarded the first ever Ella Fitzgerald Charitable Foundation Outstanding Jazz Vocalist Award at the Essentially Ellington Festival in NYC. "I guess you could say my first gig was at Avery Fisher Hall with Wynton Marsalis," Gazarek chuckles.
Sara made her way south to Los Angeles in 2000 and found herself at the prestigious Thornton School of Music at USC, studying under the tutelage of John Clayton, Shelly Berg, Tierney Sutton, and Carmen Bradford. While there, Sara helped develop the JazzReach program and, as a result, was able to spend 2 years working with inner city elementary school children as a jazz choir director. "I'll never forget that experience. It is so important to me to be out there, educating young people." Sara continues to educate young people today as the sole ambassador for the non-profit music and arts education organization, Music For All. Sara and her band give clinics at local schools while on tour, because, as Gazarek puts it, "education is such an important part of our lives, and the band and I know we wouldn't be here if it weren't for that one teacher who showed us the way. It is our duty to give back."
In 2003, Sara was awarded the 2003 Downbeat Student Music Award for Best Collegiate Vocalist. Shortly after the publication hit the press, Sara was asked to perform with Oleta Adams, Karrin Allyson, and Diane Schuur as the "as yet undiscovered talent" on the Concord Jazz Festival tour. Simultaneously, Gazarek joined a number of a-list clientele (including Barry Manilow and Allyson) as a Stiletto Entertainment (management) client and was soon being booked by the industrious William Morris Agency. "I remember feeling very nervous about it all," Sara recalls. "I'd had it drilled into me that a strong career at a young age was a fast track to obscurity."
Luckily, at a time when it would have been easy for Gazarek to lose track of her artistic goals, John Clayton, a mentor and teacher at USC, provided a grounding influence. When record labels first came knocking and she started to question her place, it was Clayton who set her straight. "He said, 'Sara, everyone has his or her own path, and there's no path that's any more respectable than any other,'" she recalls. "'As long as you do your homework and keep striving to be a better musician, you'll have a lasting career.'"
Clayton agreed to produce her first album, Yours, and insisted she develop the arrangements herself with the band she'd been performing with. She found musical soul mates in her group, and the resulting record was a debut that was released to national and international rave reviews. It ranked in the Top 10 on the Billboard Traditional Jazz Charts, Top 10 on the iTunes top Jazz Album Downloads (US, UK, Switzerland, and Belgium), #1 on the iTunes Top Jazz Album Downloads (Germany, France), #5 on the Jazz Week Radio Charts, #4 on the HMV (Japan) chart. In addition, Sara was voted the #3 Best New Artist in the JazzTimes Readers Poll.
With her strong sense of gratitude, this talented, graceful, constantly evolving, emotionally direct, label-pushing vocalist will continue to "do her homework." And judging by her second album, Sara Gazarek is going to have a lot to offer the music scene for many years to come.|
No stranger to CalJAS, this will be Sara's third performance for the organization, but first House Concert appearance. "I am absolutely thrilled to have Sara join our list of House Concert artists'" says CalJAS President Dale Boatman.  Sara is, without question, one of my very favorite vocalists!"
Born into a musical family, Larry has been playing the guitar since he was seven years old. In his early years he studied with legendary guitar master Jimmy Wyble, and at the age of fifteen he recorded an album with his father, guitarist Dave Koonse, entitled Dave and Larry Koonse; father and son jazz guitars. In 1984, Larry was the first recipient of a Bachelor of Music in Jazz Studies at the University of Southern California.
Larry has  toured with Mel Torme, Bob Brookmeyer, Billy Childs, John Patitucci, David Friesen, Karrin Allyson, Luciana Souza, Natalie Cole, Bob Mintzer, Tierney Sutton, Peter Erskine, Hubert Laws, Warne Marsh and was a featured performer with the Percy Faith Orchestra on a tour of Japan.
At the invitation of Nelson Mandela and UNICEF, Larry traveled to South Africa to perform for the first annual SAMIX festival with the Steve Houghton quintet. He also performed with Gary Willis in Sao Paulo for a government sponsored concert at SESC Ipiranga. In his travels, he has performed at Carnegie Hall, the Academy of Music, Disney Hall, the Sydney Opera House, and has been a featured soloist with the L.A. Philharmonic, the Philadelphia Orchestra and many other orchestras throughout the world.
Having been featured on over 300 albums, Larry has recorded with Cleo Laine, Al Hirt, Jimmy Rowles, Bob Brookmeyer, Luciana Souza, Lee Konitz, Larry Goldings, Mel Torme, Alan Broadbent, Ray Brown, Bill Perkins, Toots Thielemanns, Rod Stewart, Linda Ronstadt, David Friesen, Bob Sheppard, Warne Marsh, Charlie Haden, Natalie Cole and many other jazz artists. His solo guitar work was featured throughout "Crazy", a feature film chronicling the life of the great guitarist Hank Garland.
The founder of the Player's School, the renown bassist Jeff Berlin, contacted Larry in 1995 to write a guitar curriculum which is currently used for their program. He was co-leader of the L.A. Jazz Quartet which released their fourth CD, Conversation Piece (NAXOS Records) in September, 2000. The quartet's first three CD's, Astarte (GOWI), Look To The East (NAXOS), and Family Song (NTR), have received critical acclaim for their originality and musical depth. Larry's most recent recording, Conversations, a CD featuring the great pianist David Roitstein in a set of originals and standards, is now available through Jazz Compass (www.jazzcompass.com). He has four other releases on the Jazz Compass label: Americana (a recording featuring Scott Colley on the bass), Dialogues of the Heart (featuring his father Dave Koonse in a guitar duo setting), Storybook (featuring the bassist Darek Oles), and What's in the Box, featuring the music of the great guitarist/composer Jimmy Wyble in various settings. Larry has been a faculty member at the California Institute of the Arts since 1990.
COMING SUNDAY
NOVEMBER 26
THE CALIFORNIA JAZZ ARTS SOCIETY PRESENTS
    and
At the home of Dale and Sue Boatman
Rancho Cucamonga
Suggested Donations
 $20 non members
 CalJAS Sponsors/Patrons/CalJAS Artists 
FREE
  complimentary buffet, wine, soft drinks, 
SEATING IS LIMITED TO 40  
 MAKE YOUR RESERVATIONS TODAY!!!!